BEWI-MILK®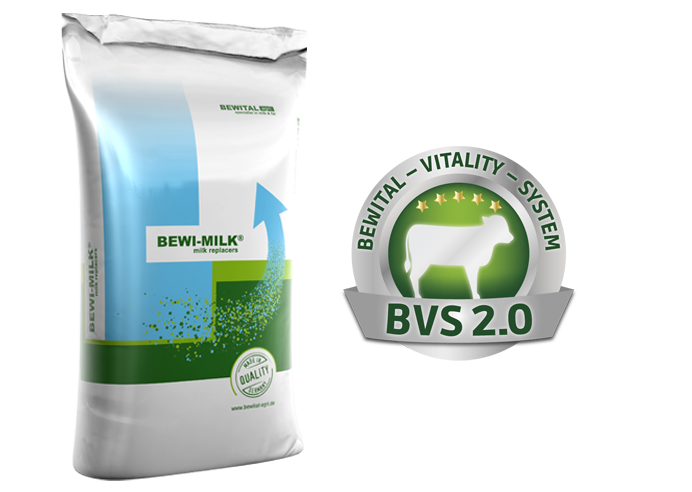 Optimum feeding right from the start.
The foundations for successful dairy cattle farming are laid when calves are reared. Science and practice teach us that what calves consume in the first few months of life, especially during their very first weeks, has an effect on their later performance as dairy cows and productive life time.
Only healthy, very well fed calves can grow into dairy cows that will produce high yields for a long time.
Our range of milk for calves, BEWI-MILK®, provides calves with exactly what they need in the first few weeks of life so that they can grow to their maximum potential. This is based on the latest scientific findings and current feed recommendations.
Our plus
in security
Not all milk replacers are the same. BEWI-MILK® products build the optimal basis for a healthy, problem-free rearing.

All our milk replacers consist of carefully selected, highly digestible raw materials and contain additional safety components due to our BEWITAL-Vitality-System (BVS 2.0).

Our safety package BVS 2.0 ensures optimal acceptance, promotes the development of a healthy intestinal flora and strengthens the immune system.
Sweeteners and flavours
Organic acids
Special fat formulation
Probiotics / prebiotics
BEWI-MILK® is tailored to the various requirements of farmers and offers the right product for every feeding situation.
Our range includes standard milk replacers with or without skim milk and acidifiers as well as special milk replacers that we have developed for specific feeding situations.
In addition to calf milk replacers, we also offer piglet milk.
Straight on the farm

via drinking
suitable for automatic feeders