BEWI-SAN GREEN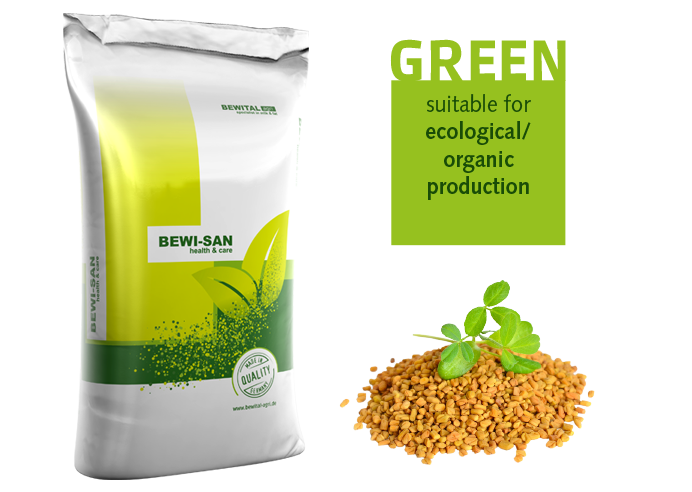 Naturally well fed
in every life situation.
Only healthy, very well fed calves can grow into dairy cows that will produce high yields for a long time. Of course, this principle holds true not only for conventional farms but also for those that operate organically.
Organic farming puts many demands on how animals are managed and fed. Keeping organic livestock healthy is a key aspect of the EU regulations on organic farming.
In addition to an optimal housing and management health can be supported by an appropriate feeding.
With BEWI-SAN GREEN we promote the healthy nutrition and development of your calves and cows.

Our problem solvers are based on natural active ingredients in organic quality to support the animal's metabolim actively.

All BEWI-SAN GREEN products can be used in environmentally responsible/organic production under Regulation (EU) 2018/848.
More naturalness
Fewer medications
Many decades of experience
Proven successful
Our BEWI-SAN GREEN range.
The BEWI-SAN GREEN product line contains dietary and supplementary feeds for calves and cows that can be used in environmentally responsible/organic production.
Whether in cases of diarrhoea, respiratory disorders, immune depression, lack of vitality, birth stress or whole milk feeding, our BEWI-SAN GREEN products are real problem-solvers that improve animal health and do so naturally.