BEWI-SPRAY®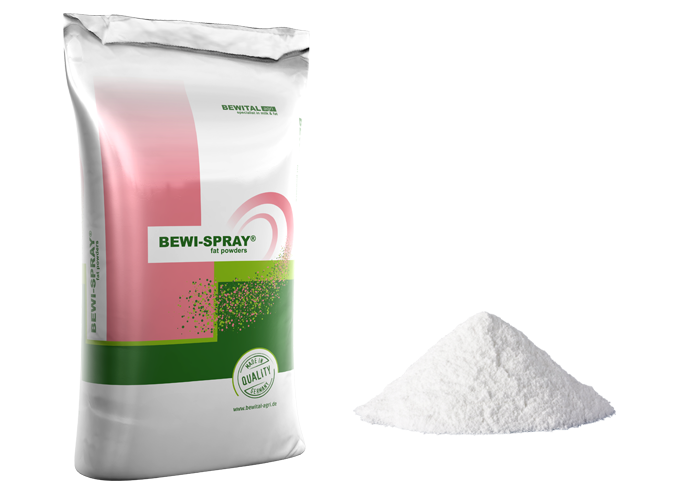 Energy supply as the basis
for health and yields.
Progress in dairy cattle breeding has led to a significant rise in daily milk yields. At the same time this has sharply increased demands on feed, especially when it comes to energy supply. An energy deficit especially in the first third of lactation quickly leads to subsequent problems for health and fertility.
In order to achieve lasting improvements in the financial situation of milk production, farmers must take account of both high milk yields and the useful life of a dairy cow, and therefore its lifetime yield. This is based on optimum energy supply. However, the energy must be available to the animal.
New breeding lines and a greater capacity for growth are also leading to an increased energy demand in pig, poultry and fish farming.
The safe
energy suppliers
Our BEWI-SPRAY® fine crystalline fat powders are highly digestible thanks to their particular manufacturing process and provide animals with the highest possible levels of energy.

We use various fat sources for our fat powders to meet all requirements and applications.

For example, we use rapeseed oil to meet the requirements of various dairy quality programmes.
Various fat sources
Excellent digestibility
Ease of processing
Many use possibilities
The BEWI-SPRAY® product line contains all products with a fat content of over 99 %.
In this form they are useful in feeding high-yielding cows, pigs, poultry and fish as an energy concentrate. They allow animals to receive maximum energy from low feed volumes. Animals need this energy especially in stress situations and high-yield phases.
In compound feed

complementary- or complete feed
as powder, pelleted or extruded

Straight in the total mixed feed ration (TMR)