Sustainability, environment and climate
Nature is the starting point for our products. It is the stated goal of our company to keep the impact on the environment, in all activities, as low as possible. This applies from the selection of raw materials through manufacture and onto the delivery of finished products to our customers. This enables us to provide the best possible support to agriculture in the pursuit of environmental protection and sustainability.
As a family-owned company, we want to live up to our own responsibility in reducing greenhouse gas emissions in order to safeguard the livelihood of future generations. Therefore, we are now publishing a climate report for the first time that quantifies the C02 footprint of our production processes at our site.
We are VLOG-verified
In the past few years there has been an increased focus on the origin and safety of feedstuffs and food. More and more consumers are very keen on products being non-genetically modified as a quality feature.
The German GMO-free association, VLOG, is committed to the production of food without genetic engineering and has worked with representatives of the feedstuffs and food industry, the food trade, representatives of official bodies and certification firms to devise a uniform production and testing standard. This feedstuff seal is called "VLOG-verified".
Thanks to our VLOG certification we can offer our customers "VLOG-verified" feedstuff. This gives farmers clear benefits: retention samples no longer need to be taken, and the burden of documentation shrinks.
Confirmed sustainability of
protein sources used (soya)
Some years ago we stopped using protein concentrates from genetically modified soya beans in the manufacture of our milk replacers. Our high-energy concentrates/fat powders are also suitable for the production of non-GMO food.
This is how we support the initiative of the German feed industry to acquire feed raw materials responsibly. The soya proteins we use come from sustainably farmed soya beans certified according to the Donau-Soja or ProTerra-non-GMO standards. We are RSPO-certified
As a family firm, the responsible use of natural resources is very important to us. Our strengths include the production of rumen-stable fat powders and fat-encapsulated products. Palm oil is therefore an important raw material for the production of high-quality feeds.
We have been an official member of RSPO since 2015, and we are actively committed to the promotion of sustainable palm oil. Our RSPO certification (RSPO = Roundtable on Sustainable Palm Oil) allows us to offer our customers rumen-stable fats and milk replacers containing palm oil from sustainable cultivation.
The international organisation RSPO acts throughout the world for sustainable palm oil farming. It promotes and monitors sustainable farming, taking account of social, environmentally-relevant and economic criteria.
Promotion of domestic feedstuffs
as an alternative to palm oil
We use various fat sources to manufacture our specialist feedstuffs. This means that we can also offer our customers alternative products in addition to sustainably produced fat powders.
We launched BEWI-SPRAY® RS 70 in 2012 as a rumen-stable fat powder based on raw materials grown in Germany (rapeseed oil). The product closes the energy gaps of high-yielding cows even in compliance with the strict quality standards of various dairies (e.g. the feed standards applied by the German dairies Landliebe and Goldsteig).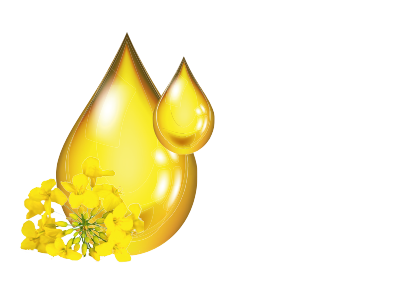 Reduction in methane secretions
Cattle farming is one of the main sources of agricultural emissions. The main issue when it comes to reduction greenhouse gas emissions from cattle farming is methane (CH4). According to the German Ministry of
Food and Agriculture (2014), the most sustainable way of reducing methane emissions per production unit is to reduce the number of cows on farms while at the same time increasing their productivity.
From the point of view of feed, rumen-stable feed fats can also help reduce ruminal methane production per kg of milk. Reduction in nitrogen secretions
Environmental protection has become an increasingly important topic in livestock farming in recent years. Cattle farming is responsible for a large proportion of nitrogen (N) emissions.
Against the background of climate warming and the sustainable use of resources, our specialist feedstuffs, such as rumen-protected amino acids, offer solutions which provide animals with the feed that meets their needs as closely as possible. For high-yielding animals, targeted use of rumen-protected amino acids can help reduce nitrogen secretions.
Optimum provision of amino acids helps reduce the secretion of superfluous compounds containing nitrogen. This is beneficial to the environment.
Energy management
Our cogeneration plant provides the electricity for the production technology. We use the heat produced to heat our fat storage tanks and the production lines for fat powder and encapsulated active ingredients. This allows us to achieve a much higher degree of efficiency compared to conventional electricity generation.
A photovoltaic array on the roofs of our warehouses provides us with environmentally-friendly electricity.