The special milk replacer
for the start phase
BEWI-MILK® Protect
The challenge:
At the beginning of rearing, there is a high infection pressure on many farms (e.g. due to cryptosporidia). At the same time, calves are particularly susceptible to health problems such as diarrhoea but also coughing at this time.
The basis for carefree, and also healthy rearing is set by aiming for perfect conditions. This contains an optimal colostrum management and an intensive feeding schedule with a high quality milk replacer. They are crucial during the start phase.
Especially on farms with problems (e.g. high infection pressure, respiratory problems, diarrhoea), a specially equipped milk replacer can contribute to healthy development.
Your benefits:
Improved immune status and resistance

(e.g. against diarrhoea, cough)

Maximum security and growth

High portion of skimmed milk powder (60 %)

Contains 100 % milk protein

Suitable for use in automatic feeders

Suitable for "GMO-free" feeding (VLOG-verified)
Directly from the manufacturer
Our solution:
BEWI-MILK® Protect has been specifically developed to support health and resistance against e.g. diarrhoea and respiratory diseases during the first weeks of life.
High premium special milk replacer for the start phase

Contributes to a powerful calf rearing

For an optimal supply of milk protein and energy to exploit the genetic performance potential in the first weeks of life

Effective reduction of inflammatory processes and support of the immune system by phytogenic additives
Oregano essential oils have antimicrobial and digestive benefits

Contains our

BEWITAL-Vitality-System (BVS 2.0)

with all the important safety components for a successful calf rearing
Application:
Dissolve 140 – 160 g milk replacer per liter warm water (max. 45 °C).
In case of intensive rearing and in the winter month use 160 g per liter.
---
Info:
Detailed drinking plans are available here.
A combination of
BEWI-SAN Prevent C
and BEWI-MILK® Protect has proven itself in practice. Together, the products ensure the best growth and health even for companies with problems (e.g. high infection pressure, respiratory problems, diarrhoea).
What our customers say about BEWI-MILK® Protect
A systematic concept for sustainable success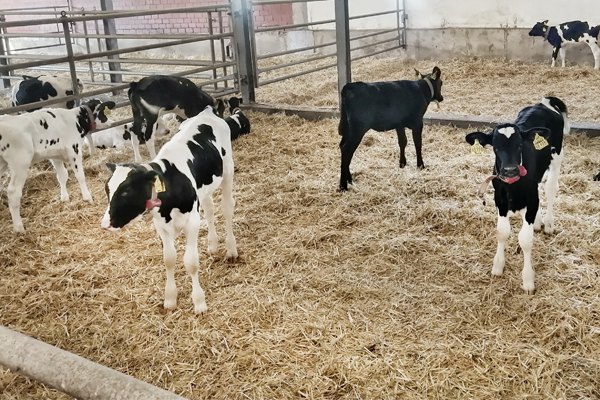 "With BEWI-MILK Protect and BEWI-SAN Prevent C we have found the optimal combination for our farm. The calves are very agile and show the best growth and health. Rearing has become simple and carefree."
Robert Anneken, farm manager of Witte & Anneken GbR
(Dairy farm with 280 cows in Lower Saxony, Germany)