To stabilise the growth performance in
respiratory diseases and inflammation
BEWI-SAN Pulmo
The challenge:
A disease of the respiratory tract causes significant economic loss. The causes of lung diseases are frequently stress situations. Inanimate and animate stressors can lead to a disease of the lungs.
Inanimate stressors include e.g. transport, moving into/ changing stalls, changing feed and weaning. Animate stressors are e.g. viruses or bacteria.
In connection with respiratory diseases, the farm management and an "eye for the animal" are often of great importance. Inanimate stressors can frequently be minimised by simple management measures. To prevent respiratory diseases, supporting the immune system as prophylaxis is extremely important. This avoids financial losses and prevents growth depression.
Your benefits:
With appetising and expectorant fenugreek
Prevention of colds and respiratory diseases
For the prevention of growth depressions
Avoidance of financial losses
Suitable for "GMO-free" feeding (VLOG-verified)
Directly from the manufacturer
Our solution:
Our feed supplement BEWI-SAN Pulmo was developed to stabilise the growth performance of rearing calves, feeders and piglets.
Helps the calf cope with inflammatory processes and respiratory tract infections
Balanced feed consumption in stress situations as well
Stimulates the digestive organs
Improved nutrient absorption
Strengthens the immune system
Promotes consistent, healthy growth
Prevents growth depression
Application area:
For calf, beef and piglet rearing. Can be used during the entire milk-feeding phase.
Application:
Mix 10 g BEWI-SAN Pulmo into the milk feeder per animal and per day and feed throughout the entire feeding period.
For piglets up to 3.5 – 5 kg BEWI-SAN Pulmo per ton of compound feed use in the rearing or weaning feed.
What our customers say about BEWI-SAN Pulmo
The calves just develop better!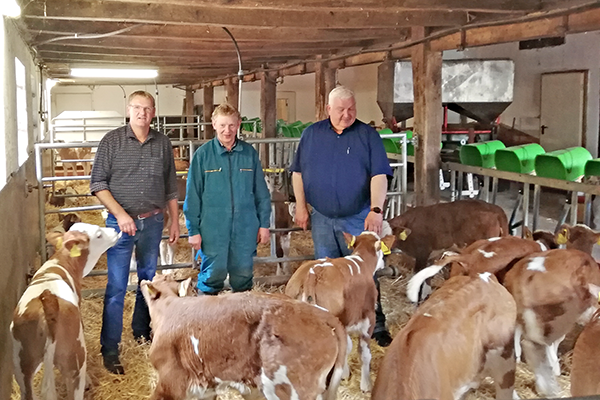 "We have been using BEWI-SAN Pulmo for about a year directly after the metaphylaxis in the feeder rearing area. Since then, the calves have been healthier and the use of pharmaceuticals has also decreased significantly. "
Bernard Rechtien
(Feeder breeder from Grandorf, Lower Saxony in Germany)