To improve nitrogen efficiency
BEWI-LACTO+® Amino LM
The challenge:
Environmental protection has become an issue in dairy farming in recent years. New fertiliser ordinances require a reduction in ammonia emissions but also nitrogen inputs into the soil as well as a reduction in phosphorus excretions.
However, stable and high milk yields from healthy cows are of crucial economic importance for the farmer. To ensure this, rations with high crude protein levels were fed in the past. But luxury consumption is problematic – not only for the environment but also for animal health.
To realise GMO-free feeding, more and more farmers are feeding rapeseed meal or other by-products. When using such protein carriers, there is a higher demand for the two first-limiting amino acids methionine and lysine. To improve milk yield and also nitrogen efficiency, a targeted supply with rumen-protected methionine and lysine is recommended for protein-reduced rations.
Your benefits:
Specially developed for use on the dairy farm
Energy-/active ingredient package
Successfully tested in practice
Allows a decrease of the crude protein content without performance losses
Environmental relief through reduced N- and P excretions

For an improved profitability of the dairy farm

Stable, high performance and good health status of the cows
Suitable for "GMO-free" feeding (VLOG-verified)

Directly from the manufacturer
Our solution:
BEWI-LACTO+® Amino LM is an energy-/active ingredient package to improve nitrogen efficiency, specially developed for use straight on the dairy farm.
Supports optimum amino acid supply with lower protein carrier levels
Rumen-protected methionine ensures that first limiting amino acids are available to dairy cows
Rumen-protected lysine provides cows with the amino acid they need for milk production
Rumen-protected fat significantly improves the energy situation without impeding rumen function
Dextrose is very tasty and provides energy quickly
 The combination of fat and dextrose is perfect for making up for energy deficits
Energy content: 24.5 MJ/kg | methionine: 65 g/kg | lysine: 65 g/kg
Application area:
To optimise amino acid supply in rations with reduced crude protein content.
Application:
BEWI-LACTO+ Amino LM should be given at dose of 150 to 200 g per cow per day.
What our customers say about BEWI-LACTO+® Amino LM
Higher nitrogen efficiency
and better yield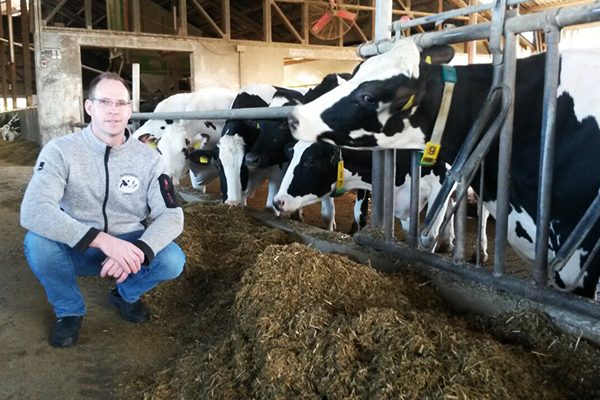 "We have seen a marked improvement in the health of our herd since we started using BEWI-LACTO+ Amino LM.
We no longer have any problems with behaviour after birth or during calving. The animals also demonstrate clear rutting behaviour. We have reduced the amount of rapeseed extraction meal in the ration by 0.5 kg per cow per day, which has had a positive effect on our nutrient balance (nitrogen/ phosphorus excretion)."
Tobias Langer, farm manager at Langer
(Dairy farm with 150 cows in North Rhine-Westphalia, Germany)