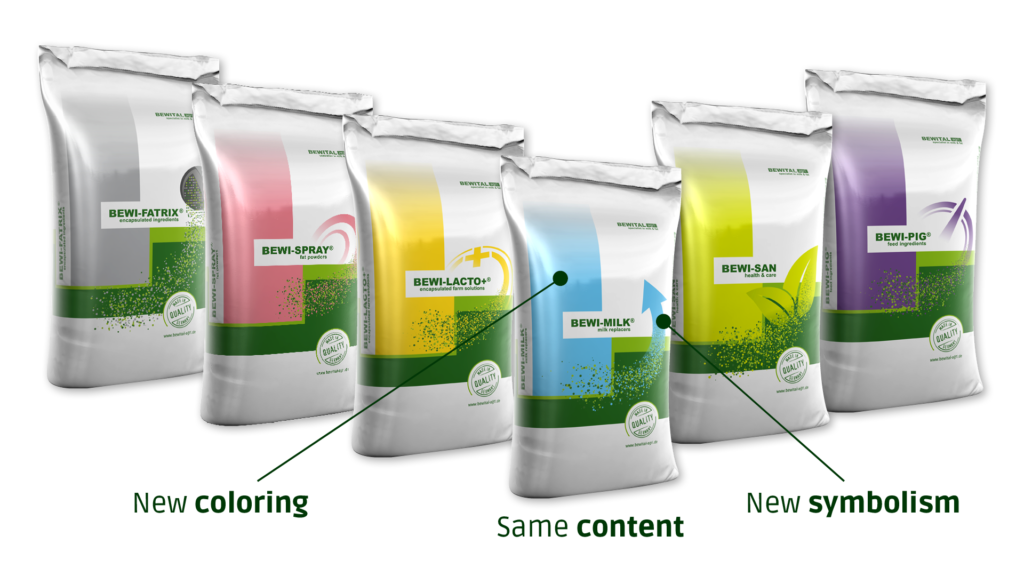 New design for our 25 kg bags
As a specialist for healthy livestock feed, BEWITAL agri has been producing innovative feedstuffs made in Germany for almost 60 years. Each of our products incorporates the know-how and good ideas of our research and development department. We do not stand still. Therefore, after almost a decade, it was a logical consequence for us to fundamentally revise the design of the 25 kg bags in order to also adapt it to the current brand image.
New design, but products & recipes remain the same
More reduced, more contemporary and more universally applicable – the new packaging design clearly differentiates itself from the previous design, but remains unmistakably true to the BEWITAL agri brand image with light green and dark green.
What is new? From now on, each product line will have a matching symbolism and a new colour scheme. Animal icons and variety names are removed in order to be able to use the packaging more universally. With the motto "less is more", this step allows us to significantly reduce the number of different bags we have in stock.
What remains the same are the packaging materials and the contents. Our approved product recipes have not changed – all BEWITAL agri products retain their usual high quality!
Successive changeover from November
As the topics of environmental protection and waste avoidance is in our DNA, we have consciously decided to gradually introduce the new packaging design to the market. This means that remaining stocks in the old design will first be used up. Depending on the product line, this will take a different amount of time.
Likewise, our retailers will of course sell products in the previous design that are still in stock. The first products in the new look are expected to be delivered from November 2022.
From old: