A systematic concept
for sustainable success
The calf rearing concept of Witte & Anneken GbR proves that thoughtful feeding in conjunction with consistent hygiene measures pays off. Problems with diarrhoea and respiratory diseases are sustainably reduced.
Farm manager Robert Anneken reports that his calves had to fight with infectious diarrhoea (e.g. caused by cryptosporidia) and respiratory diseases again and again. This resulted in increased culling rates, especially before weaning. The farm implemented extensive hygiene measures as standard. Robert Anneken then looked for further adjustment screws to optimise calf rearing.
Strengthen the immune system!
Dr. Michael Hovenjürgen (Research & development, BEWITAL agri) advised Anneken to strengthen the calves' immune defenses optimally – directly after birth. "This is the only way we can make the animals more resistant to diarrhea pathogens and respiratory diseases because newborns have practically no immune system", he explains. This is why a new feeding concept was developed in collaboration with the farm, additionally to their already established hygiene- and colostrum management.
Key to success at Witte & Anneken GbR:
the combination of different measures
Step 1: Create optimal starting conditions
Extensive hygiene measures are implemented as standard on farm site. This includes the consistent cleaning and desinfection of the calving pens and calf huts as well as group housings. "Once a farm is infected with cryptosporidia, it is almost impossible to get rid of it. With an effective disinfectant we can keep the pathogens at bay as best as possible, "explains Anneken.
The calf's immune system can be strengthened indirectly. Therefore, Anneken takes care for a sufficient amount of colostrum supply right after birth. As first and second meal, the calves are fed 3 up to 4 liters each.
Step 2: Support digestion
The farm feeds BEWI-SAN Prevent C from the third meal until the end of the second week of life. The dietary feed supplement is mixed with whole milk at 10 g / liter stirred and administered via a drinking bucket. The drinking quantity is 8 to 10 liters per day, divided into two meals.
BEWI-SAN Prevent C stabilises the physiological digestion and supports the immunity and resilience. As a result, the farm was able to reduce infectious diarrhoea during the sensitive first two weeks of life.
Step 3: Special milk replacer for maximum safety
After 14 days, the female calves are moved to group housing. During this phase, Anne-ken observed an increase in infectious diarrhoea and respiratory diseases. "That is why I was recommended to continue supporting the immune system to try the special milk replacer BEWI-MILK® Protect", he reports. In addition to a high proportion of skimmed milk powder (60 %), the product contains a dedicated developed security package and therefore is particularly suited for farms with health problems.
The farm applies intensive rearing. At the automatic feeder, the calves recieve a maximum of 9 liters a day with a concentration of 160 g/liter. Until the 70th day of life,the amount is lineary reduced.
Small adjustments with a big effect
Since the application of the new milk replacer, they have almost no diarrhoea occurence during group housing. Veterinary treatments have been significantly reduced.
Conclusion of the farm manager
"With this concept we have found the optimal combination for our farm. The calves are very agile and show the best growth and health. Rearing has become simple and carefree."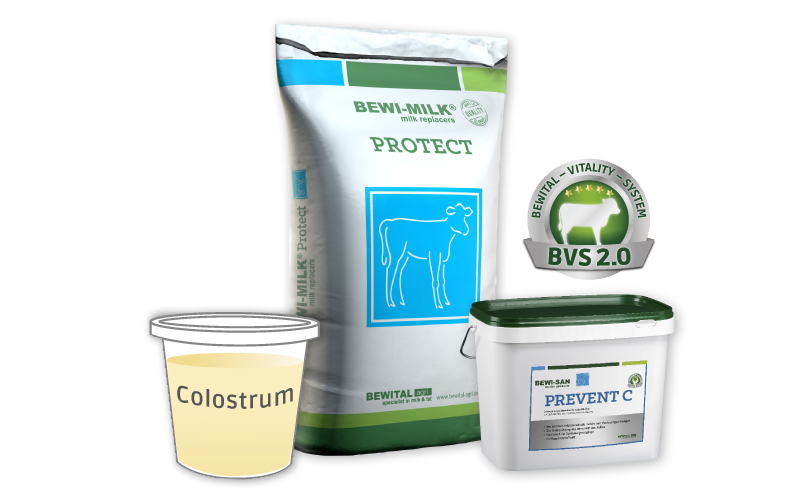 In our video you can find out more about
the advantages and possible uses of BEWI-SAN Prevent C:
Our combination for success:
BEWI-SAN Prevent C and BEWI-MILK® Protect
Your advantages:
Improved immune status and resistance (e.g. against diarrhoea, respiratory diseases)
Long-term reduction of antibiotics
Reduction of infection pressure
Reduction of the mortality rate
Higher performance during the first lactation